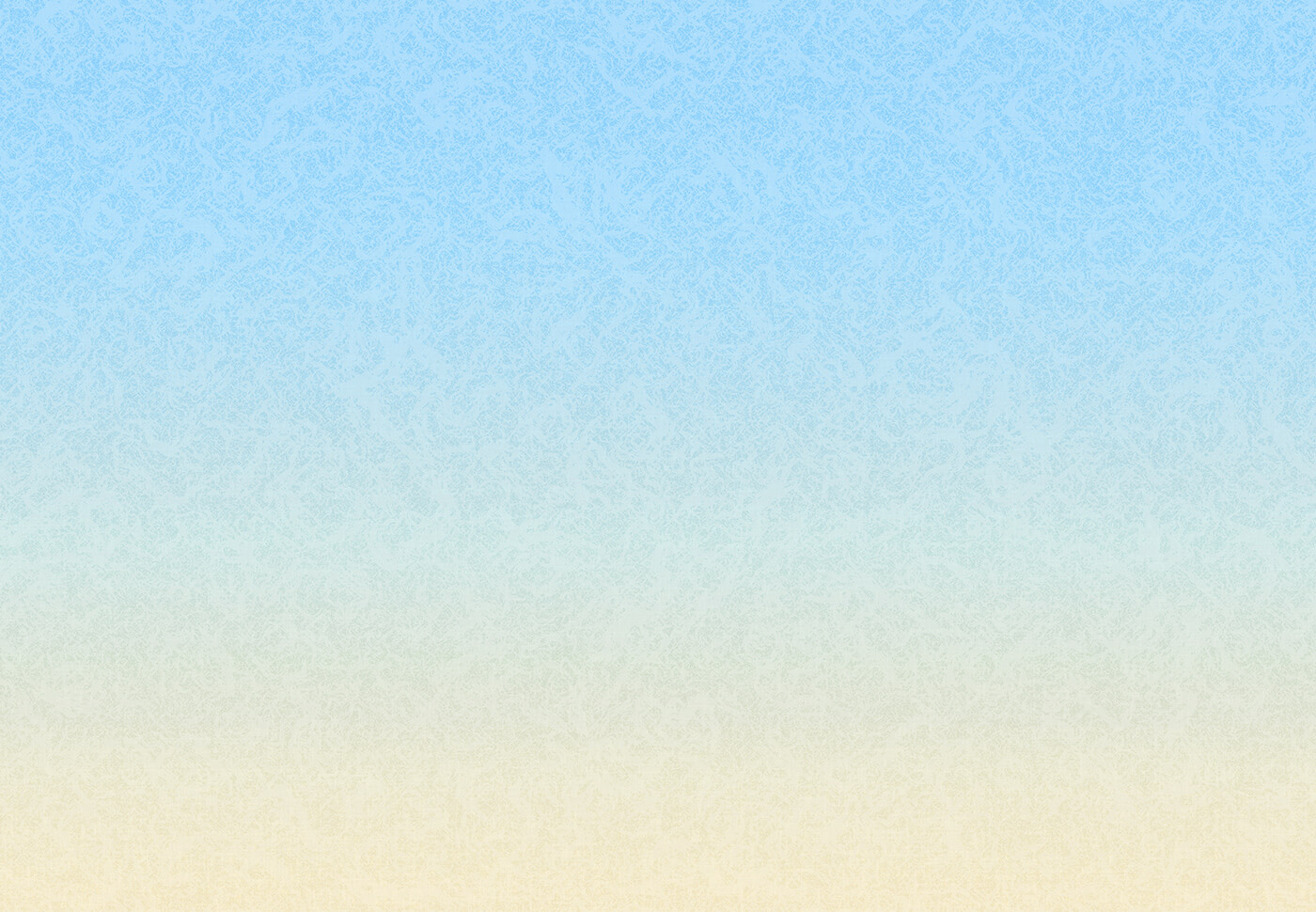 Welcome to World Aquatics
Championships - Fukuoka 2023.
Love Fukuoka and Japan even more.
On July 14, 2023, the long-awaited World Aquatics Championships will finally begin in Fukuoka. As representatives of the competition venue Marine Messe Fukuoka we aim to host an event that will allow our visitors to thoroughly enjoy their time in Fukuoka and Japan. To make this a reality we have prepared some special and unique Fukuokan hospitality for you. When you aren't busy enjoying the thrill of the World Aquatics Championships we hope that you will take some time to take in the many charms of Fukuoka. We look forward to welcoming you all.
Date
DATE : From July 7, 2023 to August 11, 2023
TIME : Booths 2:00 p.m.- 6:00 p.m.(JST)
Illuminations 8:00 p.m.- 10:00 p.m.(JST)
*Canceled in the event of inclement weather.
*The schedule may change depending on the content. Please check Twitter for the latest information.
Location
Fukuoka International Congress Center Area
2-1 Sekijo-machi, Hakata-ku, Fukuoka-shi,
Fukuoka , 812-0032
Right from the gateway up to the competition venue you will be treated to a stunning visual wall projection brimming with a Japanese artistic sensibility. As you walk further in bamboo lighting illuminates your path creating a magical atmosphere. Don't forget to stop by the nearby Japanese culture experience booth as well to feel, enjoy, and learn more about Japanese culture.
Illumination by ZERO-TEN, a creative company originally from Fukuoka, and sustainably made bamboo lanterns created by world-renowned artist Chikaken flank the walkway, making for a magical and exciting promenade.
The event venues, Marine Messe Fukuoka hall A and B, will feature different appearances from usual with special illuminations.
プロジェクションマッピング
Projection
Mapping
The "Kacho Fugetsu x Swimming" projection mapping will be handled by ZERO-TEN, a creative company originally from Fukuoka that aims to use art and entertainment to enliven the cityscape. Fukuoka International Congress Center located by the Welcome Gate of the competition will be decorated with images related to swimming and traditional Japanese painting.
日本文化体験ブース
Japanese


Culture


Experience


Booth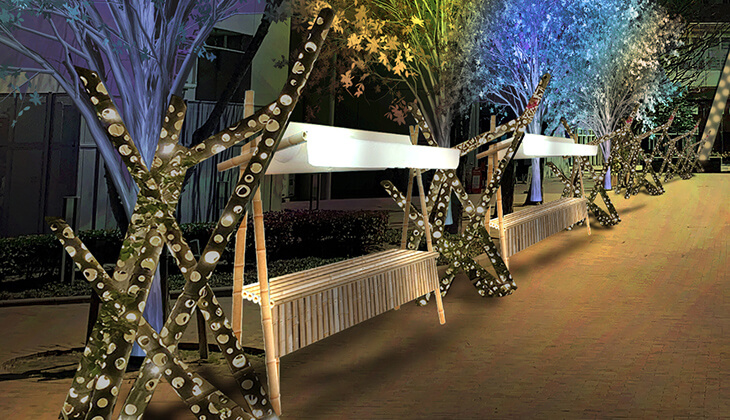 Bamboo stalls will line the promenade. At these booths we will provide information on a variety of Japanese cultural experiences that you can easily enjoy in Fukuoka City. We will even set-up some activities that can be experienced on site! With this level of accessibility why not take the opportunity to experience some authentic Japanese culture? Our English-speaking staff will both introduce the experiences as well as provide reservation support, so don't hesitate to talk with us.
日本茶振舞い
Japanese


Tea


Service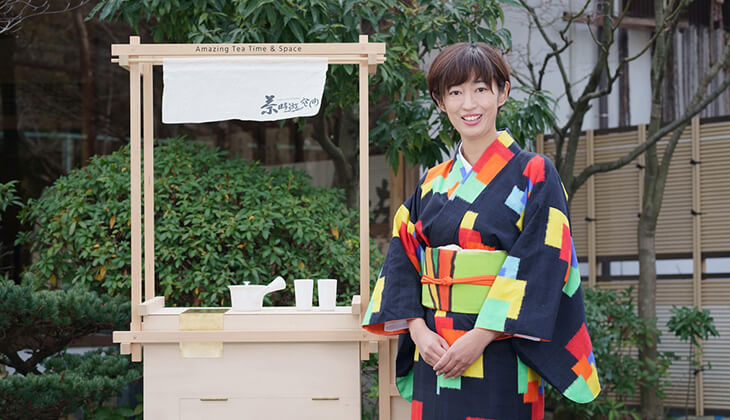 Yame tea is among the most famous exports of Fukuoka Prefecture and is one of the finest varieties in Japan. Ms. Yumi Imamura, a Japanese tea instructor and winner of the Green Tea Japan Grand Prix, will prepare and serve Yame-cha (limited quantities). This one-of-a-kind tea is rich, savory, sweet, and filled with flavor that must be tasted to be believed. Tea leaves are also available for purchase.
日本文化体験プログラム
During the World Aquatics Championships, there will be various Japanese culture experiences that you can partake of. Please take this opportunity to enjoy them!
NEW×OLD HAKATA

Kimono Experience

Iaido (Sword cutting)
Experience

Commemorative drone photo at Fukuoka Castle

Hakata Rickshaw Experience

Okawa-Kumiko Coaster Making Workshop

Ninja Experience

Wadaiko (Japanese drum)
experience Workshop

Horseback riding experience

Japanese Cuisine
Cooking Workshop

Japanese Tea Experience

Hakataori bell box making

Japanese culture experience of your choice

Japanese Tea Experience at Hakata Machiya
Japanese cultural experience booths will be set up and illuminated within a 5-minute walking distance from the Welcome Gate to the main venue of the World Aquatics Championships.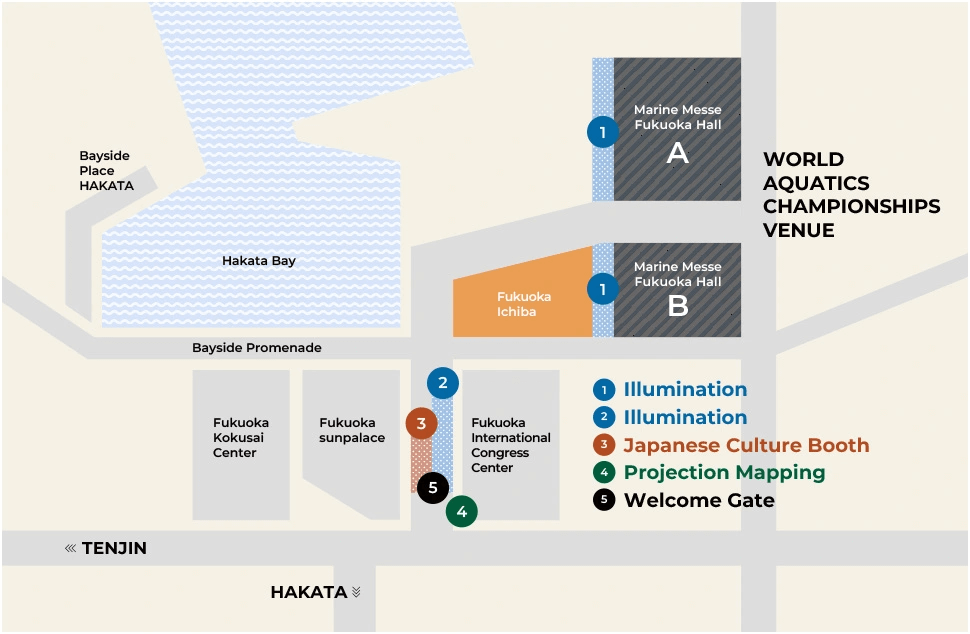 Access
Fukuoka International Congress Center Area
2-1 Sekijo-machi, Hakata-ku, Fukuoka-shi,
Fukuoka , 812-0032
In front of 'Kokusai Kaigijo Sun Palace-mae'

15 minutes walk from 'Gofukumachi Station'