A Large-scale Facility for the Future - Marine Messe Fukuoka Hall A Hall A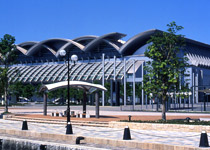 Marine Messe Fukuoka Hall A is a versatile facility used for many different types of events, functioning as a multi-purpose exhibition facility for large-scale events and exhibitions, an arena facility for athletics and volleyball events, and a hall facility for concerts.
Name of venue:
Marine Messe Fukuoka Hall A
Location:
7-1 Okihama-machi, Hakata-ku, Fukuoka City
Size:
4 stories, 2 basements (maximum ceiling height: 30m)
Land area: 28,191m2
Building area: 19,628m2
Floor space: 40,631m2
Structure:
Steel reinforced concrete, steel frame (roof)
External finish:
Roof -Titanium seam welded Exterior - Aluminum panel extruded profile
Floor finish:
Concrete finished with a metal trowel + dustproof coating
Parking:
950 spaces for visitors and 80 spaces for organizers
Capacity:
Maximum 15,000 people
| Name of venue | Area | Floor load(per m2) |
| --- | --- | --- |
| Multi-purpose Exhibition Hall | 8,000m2(約2,420坪) | 5t (elevated seating 0.55t, elevated stage 1t) |
| 2nd Floor Exhibition Space | 1,100m2(約330坪) | 0.8t |
| Umi no Mall (Seaside Mall) | 1,400m2(約420坪) | 0.3t |
| Sub-arena (3rd Floor) | 851m2(約260坪) | 0.35t |
| Name of venue | Area | Capacity (Classroom configuration) | Capacity (Theater configuration) |
| --- | --- | --- | --- |
| Large Meeting Room | 410m2 | 250人 | 500人 |
| Meeting Room 1 | 86m2 | 20人 | 60人 |
| Meeting Room 2 | 140m2 | 56人 | 130人 |
| Meeting Room 3 | 106m2 | 36人 | 90人 |
| Meeting Room 4 | 44m2 | 12人 | 20人 |
| Waiting Room A | 78m2 | - | - |
| Waiting Room B | 87m2 | - | - |
| Waiting Room C | 51m2 | - | - |
| Waiting Room D | 87m2 | - | - |
| Waiting Room E | 30m2 | - | - |
| Waiting Room F | 30m2 | - | - |
| Waiting Room G | 19m2 | - | - |
| Waiting Room H | 27m2 | - | - |
| Waiting Room I | 31m2 | - | - |
| Waiting Room J | 31m2 | - | - |
Exhibitions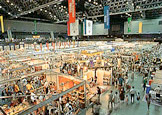 Marine Messe is a spacious venue that provides the optimal environment for large-scale exhibits, from yauchts and cruisers to automobiles. Furthermore, passageways between exhibition spaces on the 1st and 2nd Floors are ensured through the use of temporary stairs. Promenades boasting views of Hakata Bay and Seaside Mall can also be used as part of exhibition halls. In addition, we have taken great care to put in place user-friendly facilities, such as by laying city gas pipes through to the walls of the Multi-purpose Exhibition Hall.
Floor space
9,100m2(1F:8,000m2・2F:1,100m2)
Maximum ceiling height
30m
In addition to stairs in 4 locations, passageways between spaces on the 1st and 2nd Floors ensured through 2 sets of temporary stairs
Use of Seaside Mall (1,400m2) also possible
Floor load: 5t/m2(approx. 7,0002 on the 1st Floor excluding elevated seating and elevated stage sections)
Goods entrance
6m1ヵ所・4m1ヵ所・3.2m2ヵ所・2.75m1ヵ所・2.5m1ヵ所
Floor pits (water supply and drainage pipes, electricity, telephone, compressed air pipes etc.) installed at intervals of 6m
Installation of hooks for suspending things from ceilings/wall hooks
Securement of large-capacity power source through special high tension power tapping
In addition to a Large Meeting Room with a capacity of around 500 people and facilities for simultaneous interpreting in 5 languages and reception/exhibition functions, Small/Medium-size Meeting Rooms (4 rooms; can also be used as 5 if partitioned) that are suited to a diverse range of needs and 10 Waiting Rooms for business talks and other such purposes are also available.
Arena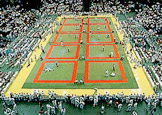 Marine Messe's high ceilings facilitate a range of sports that require height, such as volleyball, rhythmic sports gymnastics and tennis. By incorporating the Center Stage, it can also be used as a venue for boxing and wrestling. Athletic events are also catered for. For instance, there is enough space to accommodate a 200m track (6 courses), with the potential for 100m straight lines. Marine Messe also comes equipped with a large video screen (7.2m×4.5m) and electronic screen (8.6m×4m). The 3rd Floor also has a sub-arena (851m2).
Arena floor space
8,000m2
Space to accommodate a 200m track (6 courses)
Potential for 100m straight lines (indoor athletic-authorized 60m also possible)
Fully-equipped for staging international competitions, including volleyball, basketball and gymnastics (floor panel-compliant)
Capacity:
Volleyball (single court): approx. 12,000 people; gymnastics: approx. 9,000 people; sports: approx. 6,000 people; 3rd Floor sub-arena (12.5m ceiling height, large video screen and electronic screen)
Hall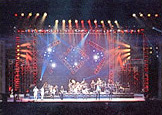 The center of the main stage is equipped with a partitionable elevating stage (5 partitions measuring 18.2m×14.5m). Different combinations of retractable, rising and temporary seating allow for a range of seating arrangements to suit the occasion, from theater style to fully flat seats. In addition, grapevine trellises have been installed on two walls to secure a large-capacity power source and hang lighting equipment and other devices. Reverberation time within the hall is 2-3 seconds. The hall is therefore not only large but also boasts superlative acoustics.
Available for a range of events, including concerts and assemblies
Facilities such as dressing rooms, battens and elevating stages
Combined use of fixed seating, retractable seating and temporary seating makes it possible to accommodate a maximum of 15,000 people. (Note: Concert capacity is between 11,000 and 13,000 people depending on the stage configuration.)
Conventions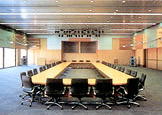 The Large Meeting Room, which has a capacity of 500 people (when set as theater style), is equipped with simultaneous interpreter booths for 5 languages. As such, it offers an unparalleled venue for international conferences, society meetings and symposiums. It is also equipped with two 120-inch video projectors. Waiting Rooms are also provided, which can be used for business talks and as VIP rooms. This is an authentic convention space that can also accommodate post-conference receptions.