Marine Messe Fukuoka Hall B, opening in spring 2021!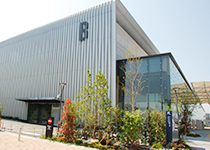 Marine Messe Fukuoka Hall B is located adjacent to Marine Messe Fukuoka Hall A. Boasting an extensive, pillarless space of 5,000㎡, this multipurpose exhibition hall can accommodate a wide variety of events. It is fully equipped with the latest utilities and facilities, such as ceiling suspension apparatus and lighting control. Such versatility provides limitless possibilities for turning your plans and ideas into reality. Marine Messe Fukuoka Hall B provides a venue for moments of excitement and encounters with knowledge and information.
Name of venue
Marine Messe Fukuoka Hall B
Address
2-1 Okihama-machi, Hakata-ku, Fukuoka City
Size
2 stories above ground
Land area: 15,132 m2
Building area: 9,240 m2
Floor space: 10,6222
Structure
Steel frame
Parking
60 spaces for event organizers, etc. (around building)
Capacity
6,000 people
| Name of venue | Area | Floor load(per m2) |
| --- | --- | --- |
| Multipurpose Exhibition Hall | 5000m2 | 5t |
| Name of venue | Area | Capacity (Classroom configuration) | Capacity (Theater configuration) |
| --- | --- | --- | --- |
| Meeting Room 1 | 354m2 | 255 people | 400 people |
| Meeting Room 2 | 373m2 | 240 people | 400 people |
Exhibition use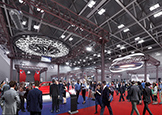 The 5,000 m2 Multipurpose Exhibition Hall will help create numerous business opportunities and make your exhibition a success. Designed with safety in mind, its flat ceiling ensures a sufficient suspension load, and the suspension points are equipped with a load management system. What is more, a wide service entrance for loading/unloading and clear carry-in/out routes enable smooth and efficient exhibition operation.
Convention use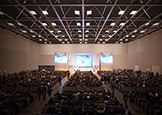 Marine Messe Fukuoka Hall B is an ideal venue for global conferences, academic meetings, and symposiums. It can also be used in conjunction with the adjacent Fukuoka International Convention Center or Marine Messe Fukuoka Hall A, opening up further possibilities and giving events that extra edge. Equipped with waiting rooms that can be used for business meetings or as VIP rooms, it can be turned into a fully-fledged convention space that can accommodate post-conference receptions. Marine Messe Fukuoka Hall B, facing Hakata Bay, is ready to welcome visitors from all over the world with a full range of functions and spaces befitting Fukuoka's reputation as the gateway to Asia.
Hall use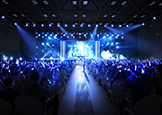 With 5,000 m² of pillarless space and a ceiling height of 15 m, Marine Messe Fukuoka Hall B can be used to create a variety of impressive spaces. And with a maximum seating capacity of 6,000, it can be easily transformed into a venue for large concerts and other entertainment events.
Arena use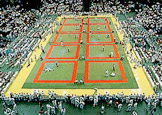 Marine Messe Fukuoka Hall B can also be used as a venue for sporting and martial arts events. We will help you create a lively and thrilling venue for athletes, spectators and organizers to experience the excitement and historic moments of games and competitions.