A New Era in History from 2004 – Fukuoka Kokusai Center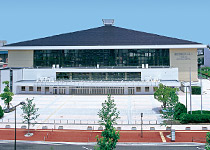 Having 5,052m2 of flat floor space with no protruding pillars and a capacity of up to 10,000 people, Fukuoka Kokusai Center is a flexible facility suitable for a variety of plans and needs, from large-scale exhibitions and concerts to conferences and sporting events.
Structure:
Steel reinforced concrete, partial steel frame, basement to 3rd Floor
Area
Land area:17,094m2
Building area:8,151m2
Floor space: 5,052m2
1st Floor:3,425m2/56m×56m
2nd Floor:1,627m2/7m-wide corridor
Ceiling height
17.9m〜24.7m
Floor load
1st Floor:5t/m2(inorganic coated concrete floor)
2nd Floor:0.5t/m2(inorganic coated concrete floor)
Goods entrance
Height:3.4m
Width:3.3m 2 locations (accessible by car)
Electricity
1st floor electric pit
Hall lighting maximum 2,200 lux, average 1,500lux
LAN
Internal LAN, Internet access
Flying system
Stage: 15 battens/Exhibition Hall: 14 battens
Stage equipment
Raised stage: 20m×5m×1.5m
Assembled stages: 28 stages (1.8m×2.76m×1.5m)
Telephone lines
400 lines (metal/RT) 3 public telephones
Exhibition drainage
22 drainage pits
Elevators
Stops: 1st – 3rd Floors (disabled access)
Load capacity: 1,350kg, up to 20 passengers
Entrance size (2.1m×1.2m×1.7m)
Capacity
1st Floor: temporary seating (6,000)
2nd Floor: moveable seating (2,500)
3rd Floor: fixed seating (1,500)
Organizer parking
Approx. 210 spaces 
*Additional parking is sometimes available at Marine Messe Fukuoka Hall A and Fukuoka International Congress Center.
Shop and vending machines
Located on 1st and 2nd Floors (shop on 1st Floor only)
Exhibitions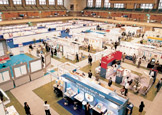 With a combined area of 5,052m2, the main 1st Floor and 2nd Floor provide ample space for large exhibitions. The layout can be tailored flexibly to the event; combined with the venue's high ceilings, visitors are sure to be impressed with this luxurious event space. Fukuoka Kokusai Center has played host to a truly diverse range of events, from business shows and exhibitions of electrical products and OA devices to kimono fairs and events connected with Asia. The center has also been attracting attention with unique exhibitions symbolizing Fukuoka's status as a cosmopolitan city.
Amusements and culture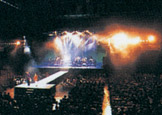 With its high ceiling and flat area, this spacious hall provides an optimal setting for a wide range of cultural events. In addition to numerous concerts by famous artists from Japan and overseas, Fukuoka Kokusai Center has hosted a variety of events for people of all ages, including musicals, world-famous circuses and ice shows, developing a worthy reputation as a center of cultural life in Fukuoka. It is also available for numerous other creative plans, such as exhibitions, fashion shows, lectures and disaster prevention fairs.
Sports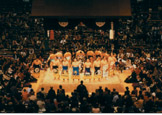 A representative example of Fukuoka Kokusai Center's sporting events is the Kyushu Grand Sumo Tournament, held every November. This annual event is a firm favorite among fans of sumo, with the center serving as a superb venue for generating awareness of this traditional Japanese sport. Furthermore, the center's maximum capacity of 10,000 people is a necessary ingredient for supporting international-class sports tournaments and recreational events. With public sports festivals, corporate sporting events and other recreational sporting events, Fukuoka Kokusai Center is an exciting fun-packed venue of discovery.
Conventions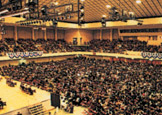 Over the years, Fukuoka Kokusai Center has built up a solid reputation for holding diverse events, from gatherings, lectures and academic conferences to a range of organizational conventions, memorial ceremonies and meetings. The center hopes to continue acting as a convention center and improving its visitor services, with the aim of further developing as a center of exchange that brings people from all walks of life together under one roof.