Fukuoka International Congress Center, Catering for a Wide Range of Needs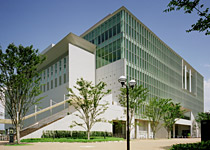 Fukuoka International Congress Center is equipped with sliding walls to adjust to the style and scale of each convention, as well as an organizer's office. Simultaneous interpreter booths and audio/visual equipment are also available to respond to the high demands in this information age, making it a state-of-the-art facility in a waterside location.
Comfortable Spaces and Clearly Marked Passageways

Fukuoka International Congress Center's three-lane driveway allows twelve buses to park simultaneously, making parking easy. Simple, safe and comfortable passageways guide visitors from the entrance to events via escalators and elevators. A walkway to the adjacent Fukuoka Sunpalace brings the two facilities together to create a single large-scale convention center. The Green Mall between the two facilities creates a calm, relaxed atmosphere for any convention.
Overview of Conference Rooms
Floor
Room
Area
(m2)
Capacity (Persons)
Classroom
configuration
Classroom
configuration
Configuration
for
examinations
2-seaters
Theater
Conference
Theater
3-seaters
2-seaters
5
International
Conference Room 501
420
264
176
154
420
420
Medium-sized
Conference Rooms
502/503
(single room
only)
各135
各75
各48
各48
各128
各100
502+503
(two rooms
used together)
270
195
130
104
304
230
Small Conference Rooms
504/505
(single room
only)
各48
各27
各18
各12
各45
各40
504+505
(two rooms
used together)
96
63
42
28
110
80
506
45
27
12
12
45
-
4
Small Conference Rooms
401-406
(single room
only)
各75
各36
各24
各24
各70
各50
401+402/
403+404/
405+406
(two rooms
used together)
各150
各96
各64
各48
各144
各108
401+402+
403/404+
405+406
(three rooms
used together)
各225
各156
各88
各78
各216
各192
407
53
30
16
16
48
-
Medium-sized
Conference Rooms
409-414
(single room
only)
各135
各75
各48
各40
各128
各90
409+410/
411+412/
413+414
(two rooms
used together)
各270
各195
各130
各104
各304
各230
2・3
Main Hall
Weekdays/
Weekends,
National
Holidays
1,300
-
-
-
1,000
-
Use of both the Main Hall and the Multi-purpose Hall
Weekdays/
Weekends,
National
Holidays
2,700
-
-
-
3,000
-
2
Multi-purpose Hall
Use of the
entire center
Weekdays/
Weekends,
National
Holidays
1,320
882
882
882
1,536
1,536
201+202
(divided in
half (1))
Weekdays/
Weekends,
National
Holidays
504
330
330
330
594
594
203+204
(divided in
half (2))
Weekdays/
Weekends,
National
Holidays
640
396
396
396
726
726
201+202
(divided in
quarter (1))
Weekdays/
Weekends,
National
Holidays
各252
各165
各165
各165
各270
各270
203+204
(divided in
quarter (2))
Weekdays/
Weekends,
National
Holidays
各320
各198
各198
各198
各330
各330